In the rising temperatures of the summer heat wave in London, the Refugee Law Initiative (RLI) collected together researchers and practitioners for a one-day Special Workshop on Internal Displacement entitled 'Revitalising the IDP Field' 20 Years of the UN Guiding Principles on Internal Displacement'.
Connected to RLI's well-established annual conference, the Special Workshop was held to mark the anniversary of the Guiding Principles on Internal Displacement and was organized under the auspices of the GP20 Plan of Action. Covering a range of thematic areas –including current trends in displacement, transitional justice, disaster and climate-change related displacement, cross-border displacement, and normative frameworks in Africa– the event catered for a wide variety of expertise and interest. JIPS contributed to the event overall and specifically to two sessions, one on protracted displacement and durable solutions and the other on urban displacement (areas of particular interest for us, as specified in our 2018-20 Strategy).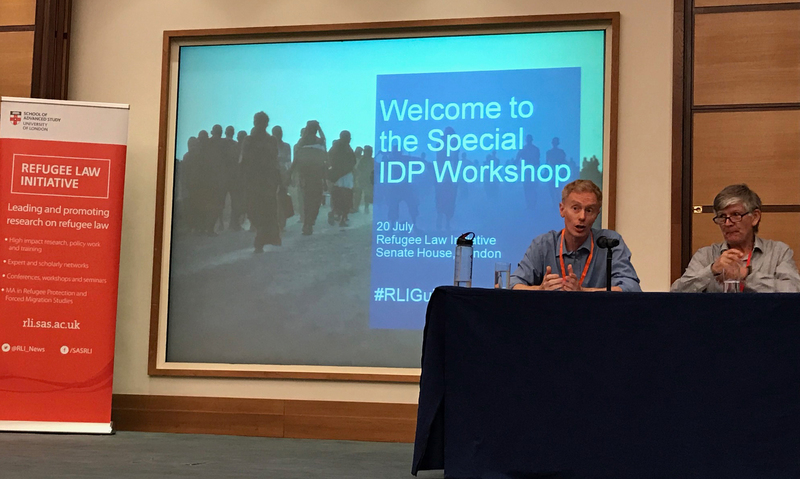 Thinking about the 'end of displacement'
JIPS-organised and moderated session on protracted displacement and durable solutions brought together experts and practitioners actively working on this topic, with the aim of identifying research priorities that would bring direct added value to interventions in this area.
Professor Walter Kälin set the scene, introducing key findings from a recently conducted OCHA study 'Breaking the Impasse'. He highlighted the importance of focusing humanitarian and development attention on preventing and reducing protracted displacement even in contexts where fully durable solutions are not yet feasible.
This opening presentation was complemented by interventions from Elisabeth Eyster, Chief of UNHCR's IDP section in Geneva, and Marina Cremonese, DRC's Country Director for Serbia, who both shared experiences of challenges and good practice of searching for solutions to internal displacement from an operational perspective. Through different case studies and from the complementary perspectives of a UN Agency and an NGO, they brought a strong focus on the added value of effective coordination amongst different actors and the crucial role of close engagement with displacement-affected communities to enable more successful interventions.
Khadra Elmi, JIPS Durable Solutions Coordinator, also took part in the panel presenting work recently completed through the Durable Solutions Indicator Library and Analysis Guide. Building on experiences accumulated from an ongoing profiling exercise in El Fasher, Sudan, Khadra's presentation shared both tools and good practice for strengthening the evidence base to inform solutions to internal displacement and help measure progress along the way.
Identifying research priorities
Moderated by Natalia Baal, JIPS Coordinator, the event collectively identified proposals for research priorities for interested academics that could help improve action on the ground. Four topics were prioritised that will feed into the upcoming workshop report and hopefully expire research collaborations in the near future:
What is the impact of internal displacement on host/displacement-affected communities, and how does this compare with a similar discourse/research in refugee situations?
How to effectively pursue area-based approaches and strengthen the role/capacity of local government in processes to secure solutions to displacement?
Exploring further the humanitarian-development nexus, including potentially controversial questions concerning the positive and negative impact of collective action; how to maintain the humanitarian/protection space whilst enhancing development engagement; and asking if joint data actually yields a better outcome?
How to best pursue local integration and understand social cohesion, including in environments where it is socially/politically sensitive to do so?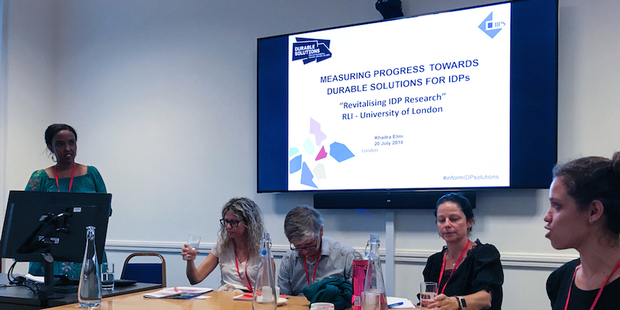 From solutions to urban displacement
In a separate session on internal displacement in urban environments, JIPS also participated through a presentation delivered by Melissa Weihmayer, JIPS Information Management Officer. Sharing experiences of both the challenges and opportunities for data collection and analysis of displacement in urban contexts, topics covered included the challenge of accessing hard to reach/invisible populations in dense urban settings; the mixing of internally displaced populations and urban poor in informal settlements; working in contexts where heavily damaged cities and low-functioning services are rife; and the need to work with different types of actors and coordination structures who are often underfunded and have low technical capacity.
Melissa Weihmayer presented alongside ICRC and other urban practitioners and researchers, who together identified research priorities that overlapped remarkably with those from the solutions session. These included:
Research into multi-scale interventions (community, household and city level) and how they can better complement each other in practice;
Exploring the extent to which social networks provide/support durable solutions in urban contexts; and
What leads to local integration outside camps?
The road ahead
The workshop will produce a report on the current state of research on internal displacement (to be released in Autumn 2018) and is generally perceived as a first step in rekindling a community of researchers into internal displacement. JIPS looks forward to working closely with this network bringing its experience and added value as a technical service working closely with government and operational practitioners in the humanitarian and development field.