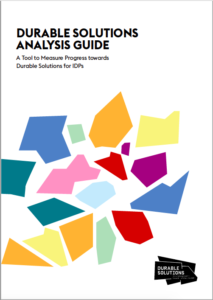 This guide was written based on learning from the project Informing responses to support durable solutions for IDPs. The project was led by the mandate of the Special Rapporteur on the human rights of Internally Displaced Persons, advised by a Technical Steering Committee comprising development and humanitarian actors as well as relevant academic institutions, and coordinated and implemented by JIPS.
The document is intended to guide a user in applying the Interagency Durable Solutions Indicators when undertaking a durable solutions analysis. The ensuing comprehensive evidence base will inform tailored national and local level policies, strategies, planning and programmes towards durable solutions for those forcibly displaced.
For more on the durable solutions project, interagency indicator library and other related tools, please visit https://inform-durablesolutions-idp.org/.
🌟  The guide is also available in French, Arabic and Spanish. 🌟