Between May and July 2023, a total of 56 professionals representing governmental bodies, humanitarian, peacebuilding, and development organisations embarked on a transformative learning journey through this year's course on fundamentals of joint data processes of JIPS' Collaborative Leadership Programme (CLP). Co-organized by the Joint Internal Displacement Profiling Service (JIPS) and the Intergovernmental Authority on Development (IGAD), and with the support from GIZ, USAID, Danida and NMFA, the training equipped participants with the skills and knowledge to effectively collaborate on data for solutions to internal displacement. 
The regional CLP 2023  represents a milestone achievement in the longstanding partnership between JIPS and IGAD. Considering the context of the pressing displacement issues in the IGAD region, affecting over 13 million individuals, the training aimed to address the capacity needs of IGAD Member States. It emphasised the importance of quality data collection and availability to support evidence-based responses, in alignment with various regional and global initiatives including the Global Compact for Migration, IGAD's Regional Migration and Policy Framework (RPMF), its Migration Policy Implementation Programme (SIMPI), and the Migration Statistics Joint Programme.
This collaboration through the CLP 2023 strengthens government's capacities as key actors in addressing internal displacement and connects them with humanitarian, development, and peacebuilding stakeholders. It enhances ongoing programs within IGAD and fosters dialogue, cooperation, setting the stage for enduring solutions to displacement.
This year's CLP course also stood out by garnering the highest level of interest ever recorded for a JIPS training, with over 150 applications from the region, in addition to the government nominees from IGAD member states. Stretching the course attendance capacities to accommodate as many candidates as possible, JIPS and IGAD carefully reviewed applications and selected a total of 56 participants. Out of those, 40 joined the 3-day in-person workshop in Nairobi, Kenya. Participation spanned 36 institutions (24 government, 10 civil society, 8 UN/INGO, 2 academia, 1 donor) and 10 countries (counting IGAD Member States Djibouti, Ethiopia, Kenya, Somalia, South Sudan, Sudan, and Uganda, as well as Nigeria and Burundi).
From Theory to Action: Nurturing Collaboration and Knowledge Exchange
Building on the success of the 2022 online edition of the CLP that combined self-paced e-learning and weekly virtual live sessions, the 2023 edition took the form of a hybrid training: starting out with a six-week e-learning phase in May-June, followed by a three-day in-person workshop in Nairobi in early July 2023. With collaboration in data at the heart of the CLP's mission, the blended format of the CLP 2023 provided a space for in-depth discussions, fostering peer-to-peer learning and collective problem-solving across countries in the region.
"We are privileged to have this pool of experts from the various sectors and with the various backgrounds, each participant brings some valuable knowledge, experience and dedication to this training and discussion. And it is through our collective expertise that we will unlock the transformative power of data to utilise it to drive meaningful change."– IGAD Head of Mission to Kenya, HE Dr. Fatuma Aden, welcoming remarks for the face to face training
The e-learning phase laid the groundwork, focusing on the nuts and bolts of collaboration at each step in the various data processes in displacement contexts. Modules cultivated learning on consensus building among diverse stakeholders on objectives, developing robust and agreed-upon methodologies for data collection in displacement settings in line with global standards, and the intricacies of ethical, transparent data collection. Throughout, participants discovered how to analyse and validate data collectively, engaging with all stakeholders including displaced communities. Finally, they learned to effectively package and disseminate data insights for informed decision-making.
Building on the e-learning part, the face-to-face workshop in Nairobi  moved from the theory to bring the real-world challenges that participants faced in their respective contexts and mandates. It brought them to apply theoretical concepts to concrete examples, particularly delving into durable solutions and official statistics as two interconnected areas, and to work with methodologies like information landscape mapping and joint analysis. Reflective sessions prompted participants to consider how to apply these valuable learnings in their contexts and collaborate with peers.
"Something that I observed and that really impressed me also in the course of this training is the high level of engagement and enthusiasm that you can really feel in this room. There's been a lot of instances where conversations had to be cut a little bit short because there were so many participants that wanted to contribute. And I think it's also really nice to see that participants really try to also bridge that or make that transition to their respective national context."– GIZ Advisor Migration Statistics to IGAD, Julia von Freeden, video interview at the face to face training

Community engagement in data processes emerged as a key topic, drawing significant interest from participants. The discussions among participants shed light on the heterogeneous and dynamic nature of displaced communities, making it clear that a one-size-fits-all approach to include communities in data processes is neither feasible nor effective. Discussions also underscored the key benefits of collaboration to get the most out of displacement data and solutions processes, making building trust and consensus among diverse stakeholders an essential element of the process. This insight served as a reminder of the human dynamics at play in addressing displacement issues.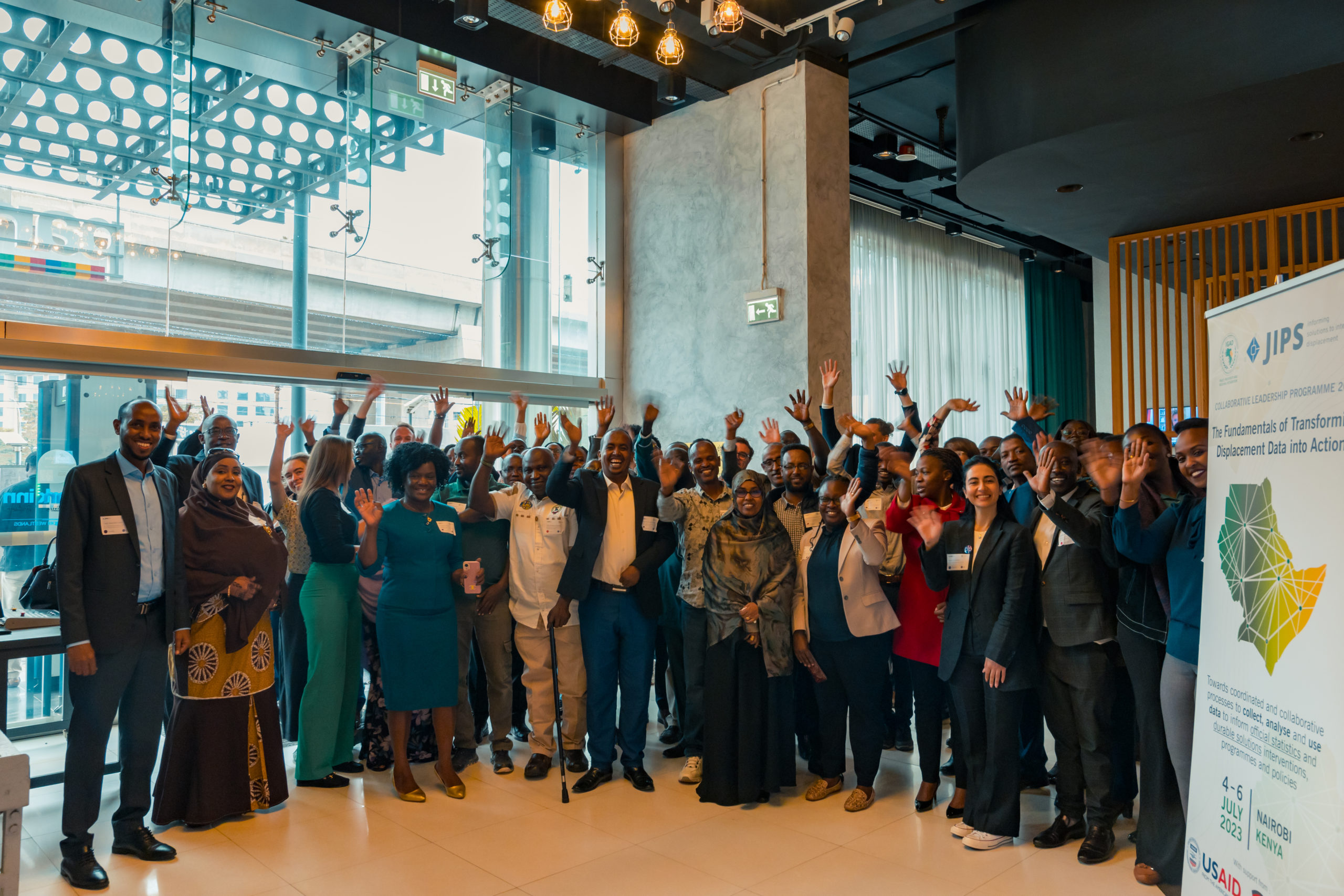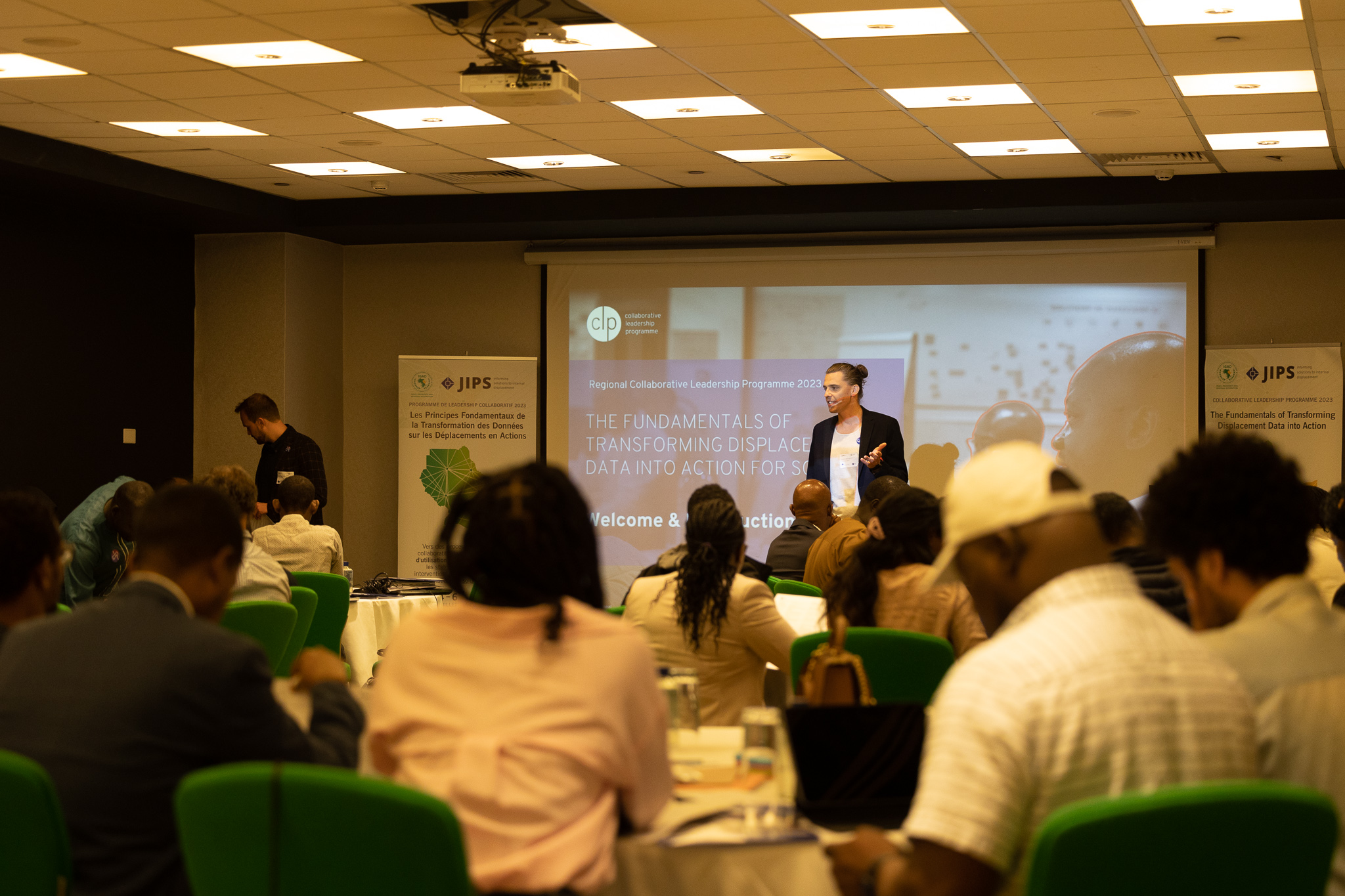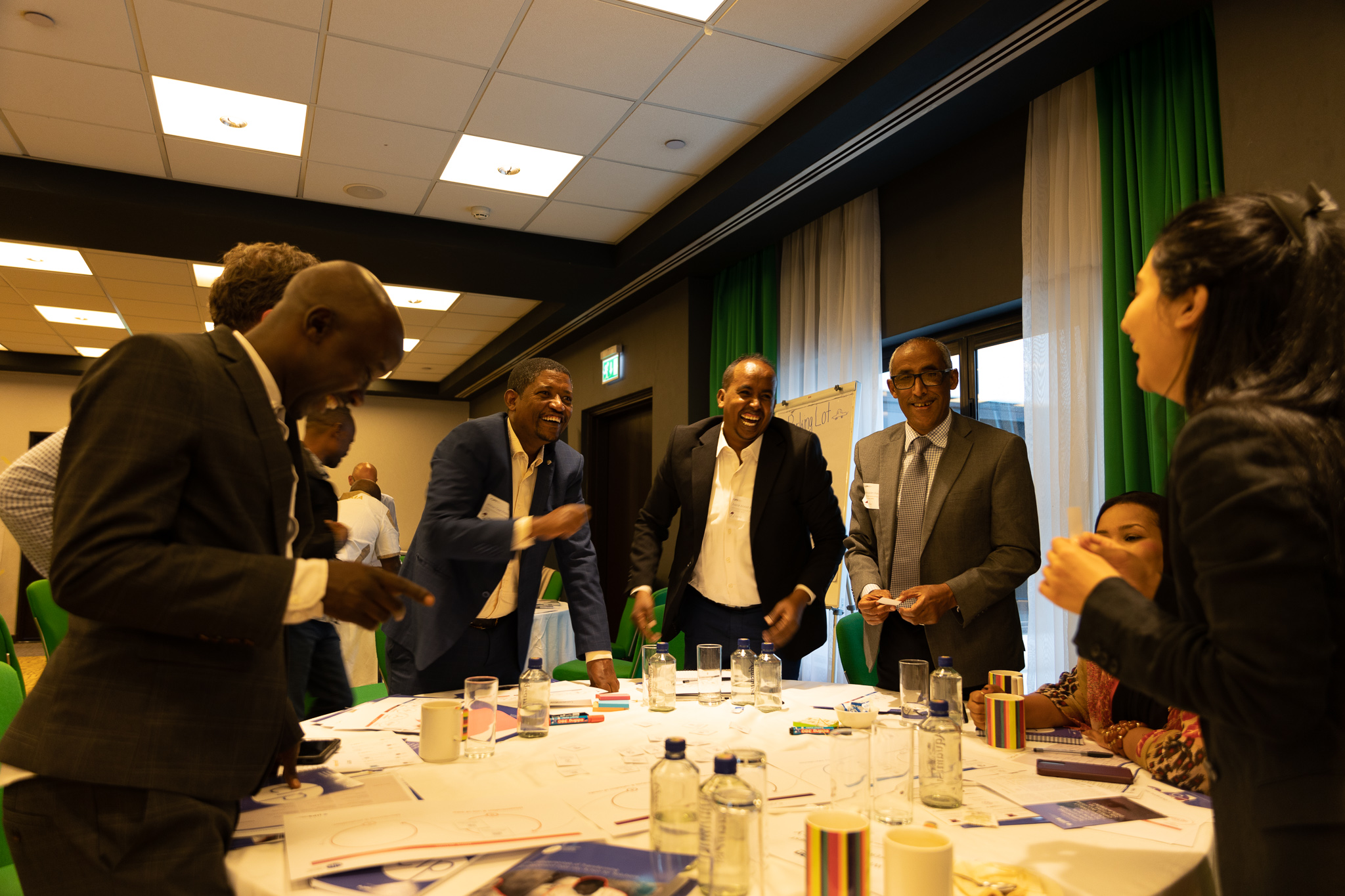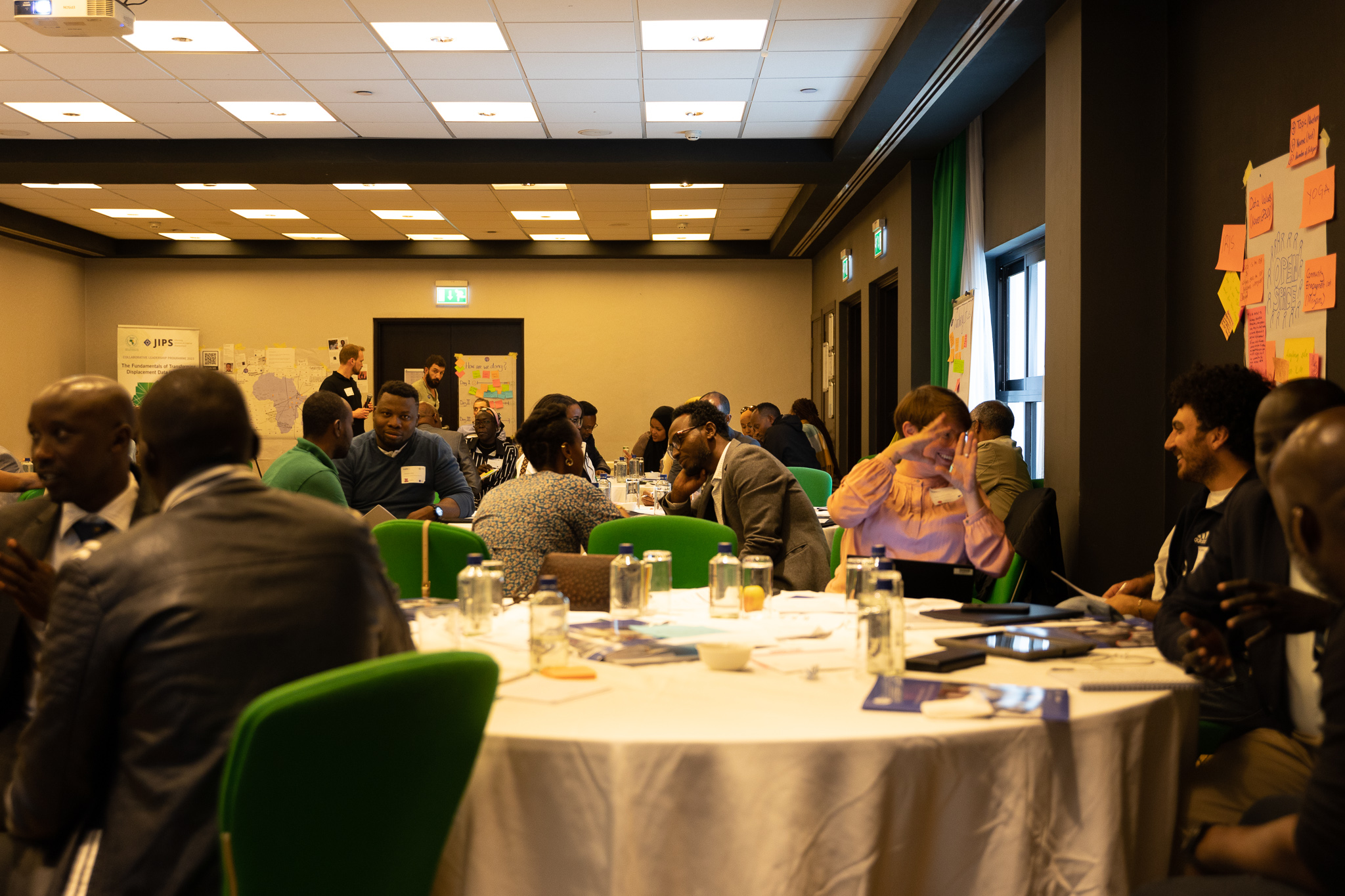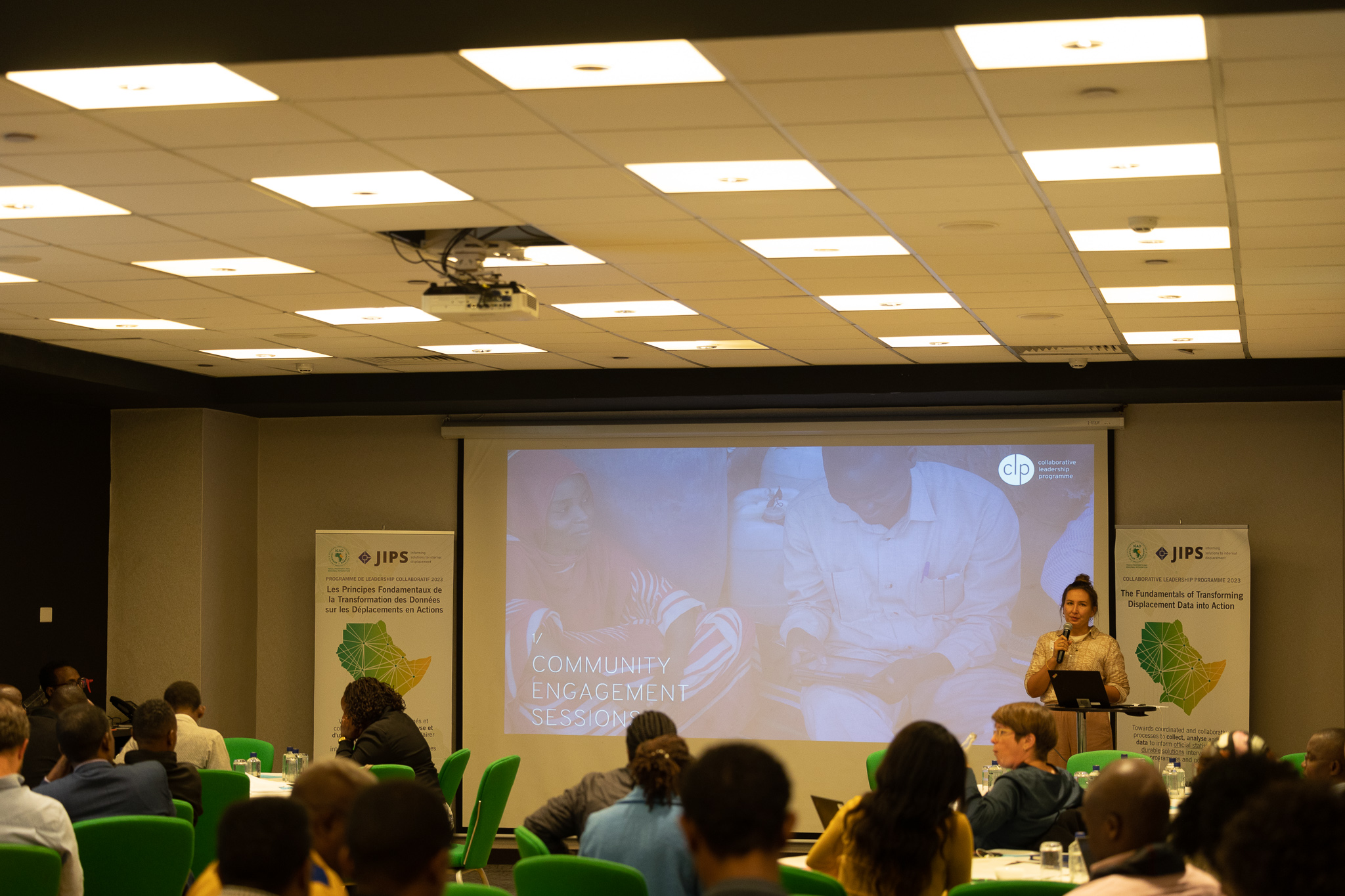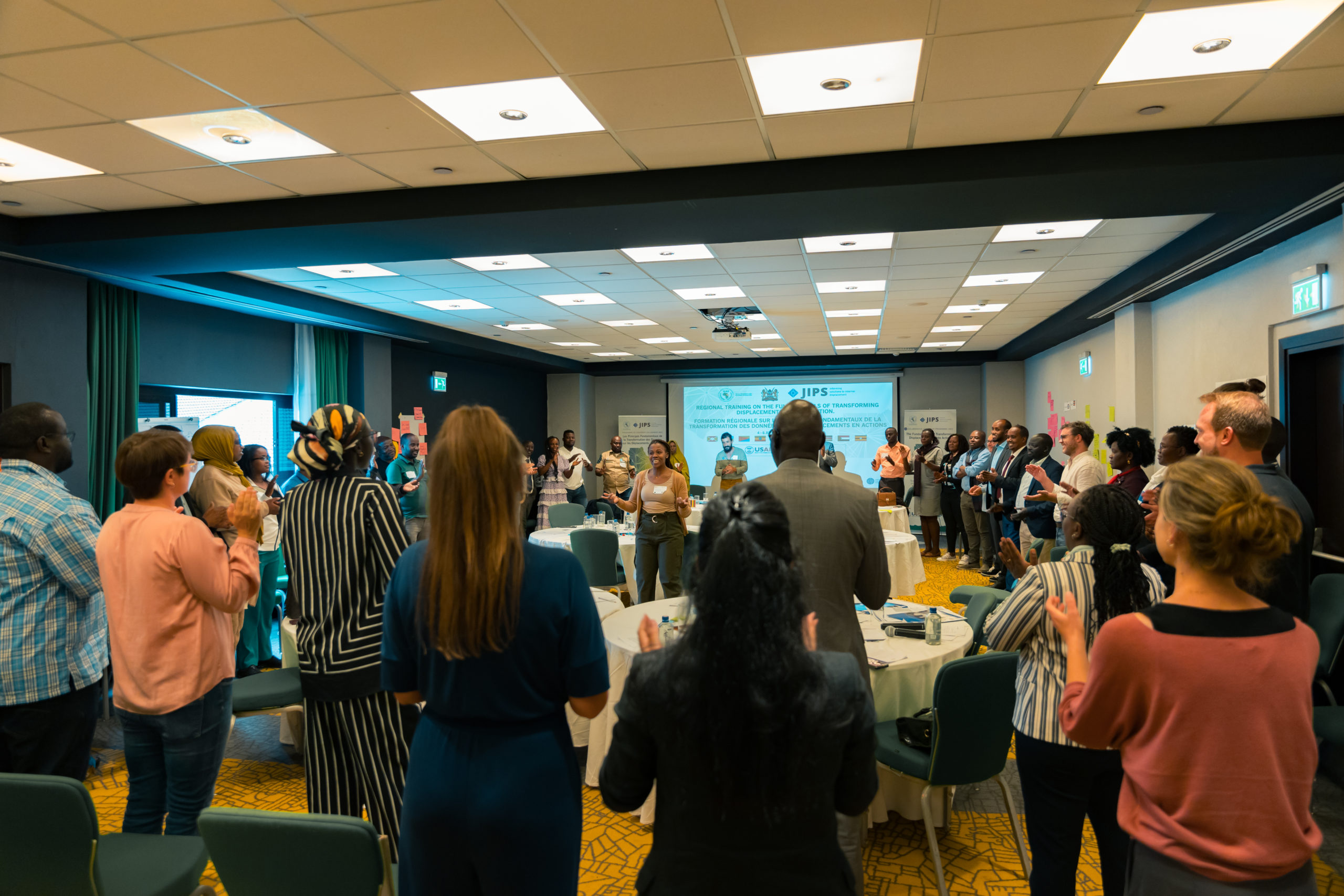 Building Capacity for Tomorrow's Displacement Challenges
On the last day of the face-to-face training in June and during a virtual 'Transfer Lab' in September 2023, participants reported back on how they planned to/have already applied the fresh learning in their day work: 5 participants were keen to conduct an information landscape mapping in their respective countries contexts, and 4 more acknowledged the importance to include IDPs in their countries' migration policies. Attendees furthermore saw a need for closer collaboration between governments and humanitarian organisations as well as for country-specific training on how to include IDPs in censuses and surveys.
Nigeria: Academia, civil society and government representatives from Nigeria expressed the need to conduct Information Landscape Mapping (ILM) to identify data gaps effectively. One notable insight was the importance of involving displacement affected communities early on in the data collection process to consolidate ownership. They also highlighted the need for additional workshops, and in-country support with data collection.
Ethiopia: The group consisting of intergovernmental, UN,  INGO and civil society representatives discussed joint planning, the importance of community engagement, and common data collection initiatives. Their discussions led to ideas for implementing an Information Landscape Mapping (ILM) at a country-wide level and fostering collaboration on IDP data and durable solutions, with ongoing capacity building and technical support by JIPS and IGAD.
Djibouti: The representatives from Djibouti aimed to strengthen national level collaboration on IDP statistics. Their plans include including a section on IDPs and forced displacement statistics in their revised National Strategy for the Development of Statistics (NSDS). They also intend to set up a subgroup on IDP statistics within their existing Technical Working Group on Migration and Displacement Statistics, improve coordination between stakeholders and involve displacement-affected communities along all stages of data processes.
Kenya: the CLP discussions revealed significant progress in addressing misconceptions surrounding Internally Displaced Persons (IDPs). Participants identified improved collaboration with the Refugee Affairs Secretariat and increased attention to data gaps as results of the CLP. Participants also planned for dissemination of Kenya demographic survey guided by the CLP content. Notably, participants proposed concrete measures for enhanced collaboration, including interagency cooperation, regular meetings for IDP statistics sharing, and inclusive communities of practice. There was a strong emphasis on capacity strengthening in data analysis and community engagement, signifying a commitment to effectively tackle Kenya's displacement challenges.
These insights and proposed actions illustrate the tangible impact of the CLP 2023 training, shifting mindsets and empowering participants with tools and knowledge to shift practice at the national level: ranging from enhancing community engagement in data processes to developing national strategies for addressing internal displacement.
What's next? 
The CLP 2023 laid the groundwork for enhanced collaboration among institutions addressing internal displacement in IGAD member countries. Participants expressed a keen desire for future trainings as opportunities to come together on the national or subnational level and to continue building bridges between actors working on internal displacement.
"As IGAD we will ensure that we continue bringing all the members together for them also to share experience of what they are really doing in terms of collaborative data collection. And also I am happy to be part of this process and also our focal points who are also now going to be the trainers of trainers at their national levels and be able to continue building the different structure and cascading the skills that they have attained. Last but not least, also enhancing the issues of learning exchange between the different member states and not only in the IGAD region, but also [beyond] where our partners are." – IGAD Head of Statistics, Charles Ogolla, video interview at the face to face training 
During the discussions on the way forward, JIPS and IGAD identified several key areas of collaboration:
Training of Trainers (ToT) Program: JIPS and IGAD plan to collaborate on developing and implementing a Training of Trainers program. This program will focus on equipping individuals with the skills and knowledge needed to train others in the field of displacement statistics and durable solutions.
Community of Practice (COP): There were strong calls to continue nurturing a Community of Practice to serve as a platform for ongoing collaboration, knowledge sharing, and learning among members related to displacement data.
Sustainability and Adaptability of Solutions: JIPS and IGAD will continue to collaborate on projects and initiatives aimed at addressing the evolving challenges of displacement, such as integrating displacement statistics into national statistical systems.
The CLP 2023 has demonstrated the power of collaboration and knowledge sharing. It is more than a training program – it is a transformative learning experience that connects and empowers participants to work together in new ways to solve persistent problems and accelerate solutions to displacement. With diverse participation, deep discussions, and a commitment to future collaboration, the CLP is poised to make a lasting impact at national level on the East and Horn of Africa's displacement issues.
Subscribe here to stay tuned for more updates and insights from CLP 2023
—–
Testimonials