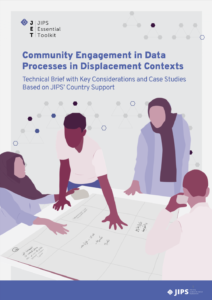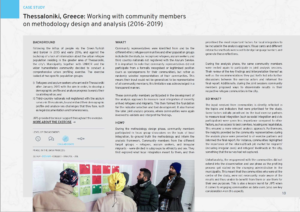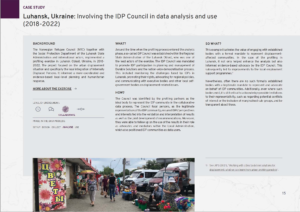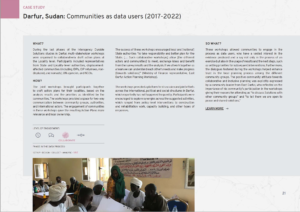 This Technical Note helps decision makers and practitioners working on forced displacement to understand the spectrum and value of approaches that can be applied to engage displacement-affected communities in collaborative efforts to design, collect, analyse, and use data on forced displacement. Linking the theory to practice, it draws on both concrete experiences and lessons learnt from JIPS-supported exercises (including in Greece, Myanmar, Sudan, Syria, and Ukraine) as well as existing literature from areas such as public participation and collective intelligence.
This document further discusses key considerations when planning and implementing such an undertaking. Importantly, it challenges current ways of working and communicating about Community Engagement. Emphasising the need for more transparency around the challenges of meaningful community participation, it concludes with a critical reflection on areas where more thinking and innovative approaches are required to move beyond current practice for the predictable and systematic inclusion of communities in the processes that concern them.
"The issues in Darfur are very context specific, and therefore, solutions need to be tailored specifically to the Darfuri context. Involving communities in crafting solutions [the Action Plans resulting from the analysis] not only guarantees contextualised, concrete and relevant response, but also establishes communal sense of ownership and accountability towards programming; hence more sustainable interventions."
– The office of the Wali, Central Darfur, in an interview conducted by JIPS in August 2021.
The document comes accompanied by a poster-size Canvas – an easy-to-use and effective tool for understanding, structuring and effectively planning a Community Engagement strategy as part of a collaborative data process in displacement contexts. The Canvas simplifies Community Engagement into fundamental levels, and provides targeted questions to guide decisions for each level and at every stage in a data process. These tools can be used in conjunction with JIPS' other tools available on the JIPS Essential Toolkit, including JIPS' Technical Brief on Joint Structured Analysis Techniques (JSAT; 2021) and Joint Analysis Guide (2021), as well as the related Facilitation Sheet on Community-Based Validation & Prioritisation Using Pairwise Ranking (2022).
Together, this Note and the accompanying Canvas contribute directly to recent global policy commitments. The UN Secretary-General, in his recent Action Agenda on Internal Displacement (2022), reiterates that "action to address internal displacement must recognize the rights and agency of IDPs and host communities and ensure their active and informed participation in decision-making". He further emphasises that they should be supported by cross-cutting efforts of humanitarian, development and peacebuilding actors as well as government authorities for increased protection, self-reliance and reduced displacement-induced vulnerabilities to achieve Solutions. This inclusive approach also applies to the data and analysis processes that inform those decisions. Here, engaging communities – both displaced and local communities – is not only essential to ensure the findings accurately reflect their lived realities and perspectives. But it is also critical to enable them to make their own uses of the analysis being jointly produced, and to access the strategizing and decision-making processes on responses to challenges due to displacement.
"IDPs are citizens and residents of their country, and States have the primary responsibility to protect their rights and respond to their needs. […] Action to address internal displacement must recognize the rights and agency of IDPs and host communities and ensure their active and informed participation in decision-making. Approaches should be guided by the knowledge of local communities and address the specific needs of people of different ages, genders, abilities and diversities, including by promoting gender equality and the best interests of the child."
– United Nations Secretary-General s Action Agenda on Internal Displacement
However, the answering of the questions of who, when, how, and for what to concretely engage often-diverse community groups in joint data processes remains a persistent challenge in forced displacement contexts. Community engagement means different things to different actors, and definitions and practices differ across countries and studies. While acknowledging the diversity of perspectives and approaches to community engagement, this Note and Canvas chart a pathway to strengthen inclusive approaches and to unlock transformative solutions for and with displacement-affected communities – systematically.