Collecting reliable data on people displaced by disasters remains a significant challenge, particularly in contexts of slow-onset disasters associated with the adverse effects of climate change. Many gaps persist, including on the dynamics, root causes and change over time of disaster-induced displacement.
Working to tackle these persisting data gaps, the Platform on Disaster Displacement (PDD)convened an expert meeting in Berlin. Our colleague Dag Roll-Hansen joined alongside participants from the Internal Displacement Monitoring Centre (IDMC), the International Organization for Migration (IOM), the UN High Commissioner for Refugees (UNHCR), as well as academic researchers, to contribute to the discussion by sharing JIPS' field experience working in diverse displacement contexts.
The discussion also opened up for enhanced future collaboration between PDD and the Expert Group on Refugee and IDP Statistics (EGRIS) in order to bring the PDD's expertise on disaster displacement to contribute to the work of the Expert Group.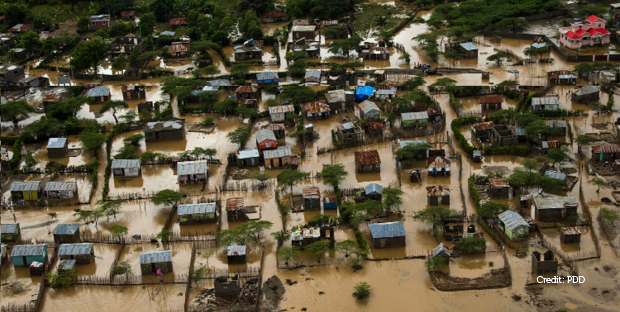 Taking stock of disaster displacement data practices
The PDD is a state-led, multi-stakeholder platform launched in May 2016 to follow-up on the Nansen Initiative and to implement the recommendations of the Nansen Initiative Protection Agenda. As part of its Advisory Committee we joined the discussion of the Data and Knowledge Working Group (DKWG) Expert Meeting on "Improving data on human mobility, environment and climate change: priorities for action" in Berlin. The aim of the event was to review a stocktaking report on global data collection on disaster displacement drafted by IDMC, as well as to collectively develop an action plan for filling key data gaps.
Overview of current data challenges
There are a number of factors contributing to the continued lack of quality data and sound evidence on disaster-related displacement (read more from the PDD on the knowledge and data gaps). Some of these factors particularly impact the operational capacity of governments and humanitarian and development actors to effectively address displacement situations. These include:
Comprehensive and systematic data collection and analysis on cross-border disaster displacement are limited: although more data has become available in recent years, alignment to other data collection initiatives is necessary to harmonise and enhance data quality and usefulness.
Understanding the root causes and reason of movement: in cases of slow-onset events, it proves difficult to distinguish people displaced by the effects of natural disasters from migrants moving in search of better living conditions. Political resistance to recognise climate-related impacts as a push factor for displacement oftentimes further complicates the situation.
Invisibility of displaced populations: people displaced due to disasters often move in small groups, and aren't registered if crossing borders. As a result, these populations are often hard to reach and can remain invisible to humanitarian assistance and protection mechanisms.
Informing solutions: collecting information on the scale of disastrous events is insufficient to adequately guide policies to achieve long-term solutions. To identify the challenges faced by displaced persons, a much more comprehensive analysis is required, including looking at their current situation and future aspirations (see Durable Solutions Analysis Guide).
Finding ways to overcome data challenges: common grounds with the EGRIS
Broadly speaking, collecting and analysing useful and actionable data on populations displaced both within and across borders, by disasters or conflict, are activities that face many of the same challenges. Collective efforts to address these challenges, exchange experiences and lessons learned, are a positive step to help formulate strategies to overcome them.
The EGRIS, which is currently working on defining international recommendations for IDP statistics and developing a manual for the production of official statistics on forced displacement, presents a clear avenue for this. Working closely with national statistical offices in displacement-affected contexts, the EGRIS would greatly benefit from enhanced expertise from those working on disaster displacement more comprehensively in order to better explore linkages between all population groups of interest.