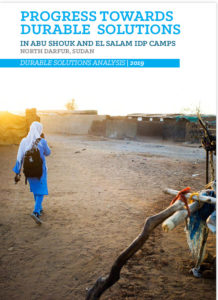 Since conflict broke out in Darfur in 2015, 1.85 million are still internally displaced with a majority living in camps and relying on humanitarian assistance. The Government of Sudan and the UN country team (through the Durable Solutions Working Group) have recognised the need for a comprehensive strategy to address the protracted displacement situation and work towards solutions.
As part of these efforts, the Government of Sudan, the UN Country Team and wider international community represented by the Durable Solutions Working Group (DSWG), including UNDP, IOM, UNHCR, WFP, UNICEF, OCHA, UN- Habitat, INGO Steering Committee and donors), initiated a durable solutions profiling exercise in El Fasher, in 2017. The exercise was done in collaboration with the World Bank and with participation from IDPs residing in Abu Shouk and El Salam camps. It provided an evidence base to inform durable solutions responses in the camps, as well as a solutions analysis framework and tools that can be applied elsewhere in Sudan.
Check out the full report, or head over to the story map to find out more about the collaborative profiling process, results and recommendations.