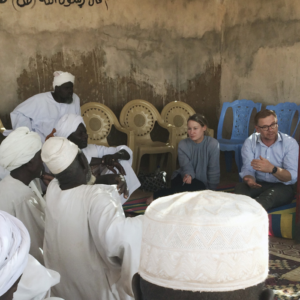 In early April we completed a second mission to Sudan. The objective was to support the Government and international partners in developing a set of joint tools that can be used to acquire the necessary evidence to inform durable solutions programming. These tools will also be piloted at a later stage.
Combining quantitative and qualitative data
The overall purpose of the exercise is to provide comprehensive information that can inform humanitarian and development planning in support of durable solutions, both in areas where displaced populations reside and in areas of return or potential resettlement. A combination of quantitative population data collection tools and more qualitative tools will make it possible to better assess the availability and capacity of services and infrastructure in targeted areas.
Solutions to displacement as part of local level development planning
In line with the IASC Framework on Durable Solutions for IDPs, the tools will allow the operation to put a stronger emphasis on people's preferences and priorities for durable solutions, as well as enable analysis of opportunities and obstacles for attaining them.
Particular importance will also be given towards steering the analysis from a focus on humanitarian assistance towards longer-term planning and incorporating solutions to displacement into local level development programming. For the pilot project in the settlements in El Fasher, a strong linkage to broader urban plans in the city will be crucial to ensure that the findings of the profiling can be concretely used by the municipality and line ministries.
The group working on the tools brings together a wide range of partners consisting of representatives from:
the Sudanese Government's Joint Mechanism on Sustainable Solutions, namely the Humanitarian Aid Commission and the Voluntary Return and Resettlement Commission;
local level partners in each of the pilot locations, El Fasher and Um Dukhum; and
members of an information management working group focusing on durable solutions, including IOM, UNDP, UNHCR, WFP, UNICEF, OCHA, UN-Habitat and the INGO Forum.
Piloting in El Fasher and Um Dukhum
The approach will be piloted in two locations: the urban area of El Fasher in North Darfur, where IDPs currently reside mainly in settlements, and return areas in Um Dukhum in Central Darfur.
The pilot exercise will be carried out in partnership with the World Bank, who also contributes technical expertise on analysis of the situation of IDPs in several other countries in the region (see materials on 'High Frequency Surveys' from Somalia and South Sudan).
This second technical mission was built on the recommendations of the JIPS scoping mission carried out in December 2016. During the technical mission we facilitated discussions with the different partners on the overall objectives and types of tools to be developed, including through two joint technical workshops with Government and international partners. We will continue to provide support to the partners as required throughout the profiling process.
---