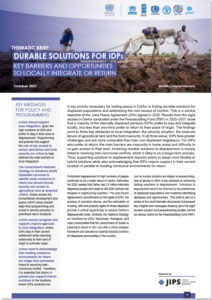 A key priority necessary for lasting peace in Darfur is finding durable solutions for displaced populations and addressing the root causes of conflict. This is a central objective of the Juba Peace Agreement (JPA) signed in 2020. A series of five thematic briefs present the key insights and messages drawn from eight durable solutions and peacebuilding studies carried out across Darfur by the Peacebuilding Fund (PBF) in 2020-2021.
All displacement and conflict affected communities — IDPs, neighbouring non-displaced residents, nomads, IDP returnees and also return refugees — were included in the analysis in the targeted localities of Tawila, Assalaya, Yassin, Sheiria, Gereida, Jebel Moon plus Nertiti and Um Dukhun. The large-scale sample-based survey was combined with extensive in-depth qualitative data, which together form the evidence-base for the insights and recommendations presented here.
The studies were led by UNHCR and the other PBF agencies (UNDP, UNICEF, IOM, UN-Habitat and FAO), with technical guidance from the Durable Solutions Working Group in Sudan (DSWG). IOM collected the survey data and the Sudanese Development Initiative (SUDIA) undertook the qualitative area-level data collection. JIPS led the design of methodology and tools and conducted the analysis and reporting. The locality reports and thematic briefs can be found on the below web platform.