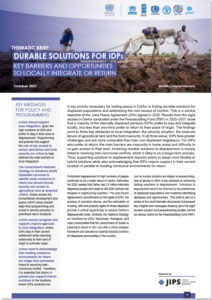 In 2020-2021, a large-scale analysis and community planning process covering eight localities across Darfur's five States was conducted to provide a shared evidence base for peacebuilding and Durable Solutions under the UN Peacebuilding Fund (PBF). The resulting resources – the detailed Locality Reports, locality Action Plans, the Thematic Briefs (listed below, available in English and Arabic) and the related Story Map, as well as the anonymized datasets – reflect an area-based and integrated analysis that focuses not only on immediate humanitarian challenges, but very much on the systemic root obstacles to solutions and peacebuilding.
The locality-level evidence as well as the multi-stakeholder locality Action Plans, which were developed in close collaboration with local authorities and communities under the PBF, have been informing the Darfur PBF programme. They can pave the way to evidence-based, area-specific and participatory approaches to solutions.
The crosscutting trends analysis are informing humanitarian, development and peacebuilding actors in the design of policy and conflict-sensitive  programmes that can address conflict drivers. They support efforts of  Walter Kaelin as Advisor to the Deputy Special Representative of the Secretary-General/Resident Coordinator/ Humanitarian Coordinator (DSRSG/RC/HC) and the Government of Sudan, to foster an improved understanding of solutions among stakeholders. Within the changed context in Sudan, the Advisor elaborated on the need for a three-track approach to Solutions for IDPs and Returnees, including the prioritization of locations conducive to solutions and implementation of area-based and integrated projects, with a strong focus on peacebuilding and the systemic root causes to the conflict. Finally, the Advisor underscored the importance of engagement with communities and the partnership with authorities, local civil society and the private sector.
Project background
The PBF projects are implemented by UNDP, UNHCR, UNICEF, IOM, UN-Habitat and FAO. UNHCR led the evidence component and action planning process of the PBF. Responding to the request of the Sudan Durable Solutions Working Group (DSWG), JIPS led all technical support on the design and implementation of the methodology and analysis. IOM implemented the survey, while the Sudanese NGO SUDIA conducted the qualitative data collection.
All displacement and conflict-affected communities — IDPs, neighbouring non-displaced residents, nomads, IDP returnees and also return refugees — were included in the analysis in the targeted localities of Tawila, Assalaya, Yassin, Sheiria, Gereida, Jebel Moon plus Nertiti and Um Dukhun. The large-scale, sample-based survey was combined with extensive in-depth qualitative data, which together form the evidence-base for the insights and recommendations presented here.
Key resources