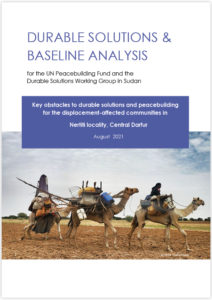 Peacebuilding and supporting durable solutions for internally displaced people (IDPs) must go hand in hand: peace cannot be reached without finding durable solutions for IDPs, and in the same manner lack of peace is often an obstacle to achieving solutions that are durable. Thus, solutions programming needs to identify the specific challenges that displacement-affected communities face and address them with suitable measures to mitigate them. The Juba Peace Agreement acknowledges these linkages and looks to addresses the root causes of conflict, such as issues of identity, marginalization, the relationship between religion and state, governance, resource-sharing, land issues and social justice.
The Peacebuilding Fund (PBF) portfolio involves programming in all of Darfur's five states that supports and underpins peace. The programme strategy recognises that durable solutions for IDPs, the rule of law and local conflict resolution are building blocks for peace but also interdependent. To build peace and support durable solutions for IDPs and returnees, PBF programming pays special attention to addressing the root causes of Darfur's conflict, thus creating a conducive environment for return and integration of IDPs, strengthening local conflict resolution mechanisms, peacebuilding capacities and the rule of law.
The durable solutions analyses conducted in eight localities across five states in Darfur will inform local-level solutions programming and related action plans, as well as broader humanitarian-development-peace (HDP) nexus programming. They furthermore provide the baseline of the agreed-upon PBF outcome indicators for measuring programme impact.
The exercises were led by UNHCR and the PBF agencies (including UNDP, UNHCR, UNICEF, IOM, UN-Habitat and FAO), with technical guidance from the Durable Solutions Working Group (DSWG). JIPS provided technical support throughout the exercise, including on the methodology design and indicators, quality assurance, analysis, capacity building, community engagement and action planning. IOM managed the field data collection, while the Sudanese Development Initiative (SUDIA) led the qualitative area level data collection and analysis.