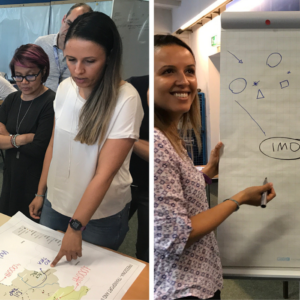 As a cornerstone of evidence-based humanitarian response, information management is in high demand. However, relevant capacity is not always readily available in field operations.
UNCHR's Training for Information Management in Emergencies (TIME) aims to equip staff and stand-by partners with the skills and knowledge needed for deployments to emergency operations as Information Management Officers. Having supported the development of an enhanced version of the Training last year, this time JIPS engaged as a participant to better understand the information needs of our partners in emergency settings.
The value of capacity building
The training was expertly facilitated by UNHCR staff and met a diverse range of learning objectives using creative and engaging methods. Participants were launched into a simulation, taking place in the crisis-prone fictional land of Freedonia (developed originally for JIPS' Profiling Coordination Training) to immediately put into practice the new lessons learned.
Some of the key take-aways from the training apply just as strongly to profiling practice as they do to information management in emergencies. These include:
Information management is key to evidence-based humanitarian response.
Bringing together participants from 19 different field operations, this training provided valuable space for the sharing of experiences and for reflection on the rapidly changing sector. Capacity for information management is not always present in operations, and thus supporting operations with both technical expertise and coordination is vital. This makes for challenging but rewarding work.
A focus on information does not replace the centrality of protection.
Indeed, the management of information is in the service of achieving protection outcomes. This was demonstrated by making the principles of the Protection Information Management (PIM) initiative the starting point to any task. Defining a purpose to the data system or collection, prioritising data protection and security, and taking a people-centred approach are integral to any information management strategy, regardless of the context.
An information management officer needs a variety of skills.
This not only includes technical expertise, for instance in database development, the creation of information products and the management of web portals, but also the ability to communicate clearly in order to coordinate between agencies and clusters. Technical coordination encourages coordination more broadly, and helps to ensure that the best possible information is made available for decision-making.
JIPS appreciates the knowledge shared by its UNHCR partners and hopes to embody the same capacity-building vitality in its own upcoming training activities.
——
JIPS' investment in capacity building is part of our  2015-2017 strategy. As well as investing in profiling capacity through our own field support and training events, JIPS integrates material into training programmes of partner agencies. As well as UNHCR, JIPS is also partnering with  OCHA, IDMC, DRC, ReDSS and ICRC in similar ways and has recently developed online profiling training modules in order to reach a wider audience.