In June 2016, JIPS conducted its seventh Profiling Coordination Training (PCT) in Geneva, Switzerland. Built on over six years of fieldwork experience, this training aims to enable practitioners to have the skills, knowledge and confidence to coordinate or participate in profiling exercises in displacement settings.
Based on results from previous evaluations, new and revised sessions were developed for this PCT to enhance technical components of the training.  These included material on developing analytical frameworks, analysing secondary data, planning and conducting focus groups, developing and defending methodologies, designing data collection tools, and performing quantitative and qualitative analysis. Working in small groups with dedicated facilitators, participants appreciated the hands-on learning experience in many of these sessions.
Feedback from participants was overwhelmingly positive, with many highlighting in particular the effective facilitation team and the practical nature of the course as a whole.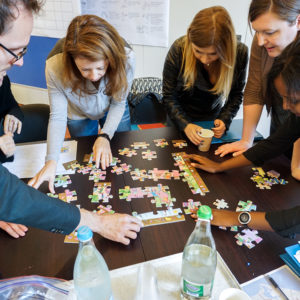 Participants came from operations in the Democratic Republic of Congo, Greece, Iran, Iraq, Jordan, Lebanon, Libya/Tunisia, Myanmar, Norway, Pakistan, Senegal, Spain, Sudan, Switzerland, Tanzania, Venezuela, and Yemen. A variety of NGOs and UN agencies were represented, including DRC, NRC-IDMC, iMMAP, UN OCHA, UNDP, UNHCR, and WFP. The PCT also benefited from the active participation of members of the Governments of Iraq and Tanzania.
Dr. Chaloka Beyani, the UN Special Rapporteur on the Human Rights of IDPs, joined the training as a special guest to speak to participants and highlight the importance of profiling and agreed-upon data on displacement to inform law and policy development and the achievement of durable solutions. He reflected also on his close collaboration with JIPS since 2012 and his appreciation of the centrality of capacity building in the JIPS strategy/approach.