In the case of Honduras, the profiling exercise proved to be a crucial step in the public policy formation process in response to internal displacement. Alongside presentations on the cases from Iraq and Somalia, Sandra Ponce, Counsellor at the Honduran Mission to the UN in Geneva, spoke at the recent panel discussion about her country's profiling experience and the impact of the data produced. (Part 2/4)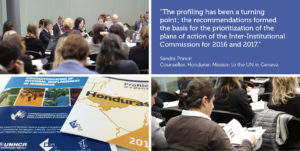 Honduras has a population of over 8 million, of which 63% live in poverty and in rural areas. For more than a decade it has experienced a profound deterioration in security. This is due to the activity of organised crime, which in recent years has forced the population to move within the country and across borders. While the Government publicly recognised the issue in 2013 with the establishment of the Inter-Institutional Commission for the Protection of Persons Displaced by Violence, it lacked reliable sources of information on the magnitude and characteristics of forced displacement in the country.
The profiling process provided, for the first time, sound and agreed-upon data on forced displacement in the most affected parts of the country. Evidence showed that displacement affected especially young people from families with lower income and less schooling. A majority of the estimated 174,000 IDPs indicated having fled due to violence and insecurity. Data furthermore highlighted an intra-urban and intra-departmental aspect of the displacement. And 95% of internally displaced said they did not intend to return to where they had lived before.
"The profiling has been a turning point; the recommendations formed the basis for the prioritisation of the plans of action of the Inter-Institutional Commission for 2016 and 2017", explains Sandra Ponce.
She highlights the following core objectives:
Develop a legal framework for a national system of protection, prevention, assistance and durable solutions informed among others by the profiling's findings;
Create an emergency assistance fund for immediate humanitarian response and to include displaced persons in social programmes;
Extend the profiling to other affected departments;
Build a plan to engage the local actors, such as municipalities;
Strengthen the operational capacity of the Commission.
Thus, the profiling exercise, conducted through a collaborative process with strong Government leadership, has had a great impact on the ability of the Government to take action on the issue. It furthermore contributed to positioning internal displacement in the public agenda. As Walter Kälin puts it, "the profiling set a whole process into motion, a process that then moved towards addressing the real needs of IDPs and trying to find solutions." Honduras hopes to continue working with JIPS to broaden the profiling study and to inform humanitarian as well as long-term development solutions.