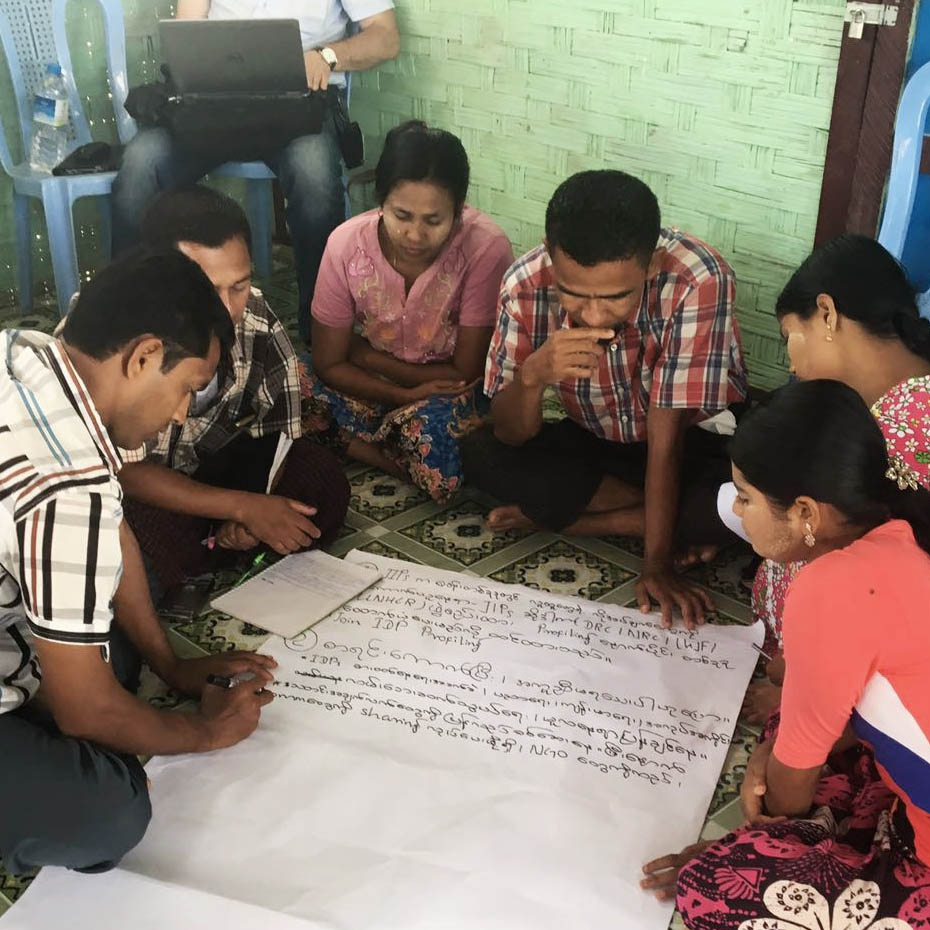 One key challenge when undertaking a profiling is to ensure results reflect the reality experienced by displaced communities so that evidence-based interventions can be more effective. Involving communities in different stages of the profiling process can help to achieve this.
In the context of the on-going profiling exercise in Rakhine State, Myanmar we are currently testing one way to enhance community participation: through mapping communication channels between humanitarian organisations and affected communities. At a half-day workshop organised together with CCCM and partners of the Technical Working Group in Baw Du Pha-1 camp during the latest JIPS support mission, 19 enumerators came together to map existing channels. They furthermore identified ways to involve the community in the analysis and validation phase of the profiling exercise.
The workshop proved to be highly valuable. It showed there was significant interest from the community to understand the profiling findings and to learn and discuss how this would improve their situation. Through identifying preferred and trusted communication channels, such as the mechanism of community groups that were seen as a transparent forum, a plan was developed to feedback and validate results from the data collection.
Mission report and next steps
The overall aim of JIPS' mission was to support the Technical Working Group and other profiling partners during the collaborative analysis process and the preparation for qualitative data collection. The mission was conducted in collaboration with Statistics Norway, and focused on the preliminary analysis of the household survey data conducted in various Muslim and Rakhine (relocated) camps/ villages in and around Sittwe.
As a next step, the Technical Working Group with support from JIPS will prioritise results from the profiling exercise through an inter-sectoral analysis process, which can then be fed back to the community in suitable formats to facilitate validation. At JIPS, we also plan to test and adjust the community participation methodology used in Myanmar in upcoming profiling exercises in other contexts.