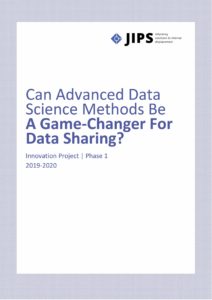 Much has changed in the humanitarian data landscape in the last decade and not primarily with the arrival of big data and artificial intelligence. Mostly, the changes are due to increased capacity and resources to collect more data quicker, leading to the professionalisation of information management as a domain of work. Larger amounts of data are becoming available in a more predictable way. We believe that as the field has progressed in filling critical data gaps, the problem is not the availability of data, but the curation and sharing of that data between actors as well as the use of that data to its full potential.
In 2018, JIPS embarked on an innovation journey to explore the potential of state-of-the-art technologies to incentivise data sharing and collaboration. This report covers the first phase of the innovation project and launches a series of articles in which we will share more about the innovation journey itself, discuss safe data sharing and collaboration, and look at the prototype we developed – made possible by the UNHCR Innovation Fund.
We argue that by making data and insights safe and secure to share between stakeholders, it will allow for a more efficient use of available data, reduce the resources needed to collect new data, strengthen collaboration and foster a culture of trust in the evidence-informed protection of people in displacement and crises.
The paper first defines the problem and outlines the processes through which data is currently shared among the humanitarian community. It explores questions such as: what are the existing data sharing methods and technologies? Which ones constitute a feasible option for humanitarian and development organisations? How can different actors share and collaborate on datasets without impairing confidentiality and exposing them to disclosure threats?