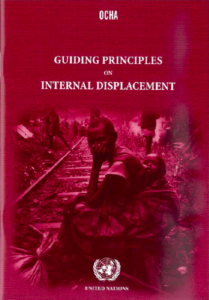 The Guiding Principles on Internal Displacement constitute the key international standard on internal displacement worldwide. Presented to the Commission on Human Rights in 1998, they restate and compile human rights and humanitarian law relevant to internally displaced persons.
In 2018, to mark the 20th anniversary of the Guiding Principles, the Special Rapporteur on the human rights of Internally Displaced Persons dedicated a report to the Human Rights Council (A/HRC/38/39) on progress achieved, ongoing challenges and actions to be taken by all stakeholders to advance their implementation. The same year, the Special Rapporteur together with the UN Refugee Agency (UNHCR) and the UN Office for the Coordination of Humanitarian Affairs (OCHA) launched the GP20, a three-year multi-stakeholder plan of action to prevent, protect and resolve internal displacement consistent with the Guiding Principles. The initiative culminated in the publication of the GP20 Compilation of National Practices to Prevent, Address and Find Durable Solutions to Internal Displacement, in November 2020.
JIPS has been a strong contributor to the GP20 initiative since its inception, and we have continued our engagement throughout the follow-up initiative provisionally entitled GP2.0.
Find out more about the Guiding Principles on Internal Displacement, and access other languages.