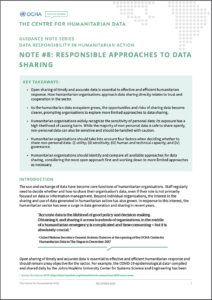 The humanitarian sector has seen a surge in data generation and sharing in recent years. Open sharing of timely and accurate data is essential to effective and efficient humanitarian response, as the COVID-19 pandemic has demonstrated. Nevertheless, because this type of data typically relates to the most at-risk populations, managing and sharing it warrants caution. Maintaining trust within the data ecosystem is critical to the sustainability of data sharing, and relates to issues such as the quality of the data, the level to which the data will be secured after sharing, and the responsible use of data by the recipient.
This Guidance Note was jointly developed by the Centre for Humanitarian Data and JIPS to support decision-making for responsible data sharing. It also explains data sensitivity and discusses factors for determining whether to share non-personal data.
—
This is the final note in a series implemented by the Centre for Humanitarian Data, covering eight guidance notes on Data Responsibility in Humanitarian Action published over the course of 2019 and 2020. For more, check out their web page on data responsibility.