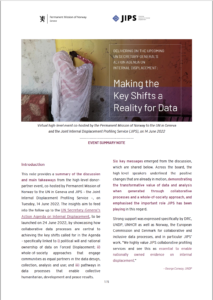 This note provides a summary of the discussion and main takeaways from the high-level donor-partner event, "Delivering on the UN Secretary-General's Action Agenda on Internal Displacement: Making the Key Shifts a Reality for Data". The virtual event was co-hosted by the Permanent Mission of Norway to the UN in Geneva and JIPS on Tuesday, 14 June 2022.
The six key messages and main takeaways that emerged from the discussion aim to feed into the follow up to the UN Secretary-General's Action Agenda on Internal Displacement, by showcasing how collaborative data processes are central to achieving the key shifts called for in the Agenda – specifically linked to i) political will and national ownership of data on Forced Displacement; ii) whole-of-society approaches that engage communities as equal partners in the data design, collection, analysis and use; and iii) pathways in data processes that enable collective humanitarian, development and peace results.
Across the board, the high-level speakers underlined the positive changes that are already in motion, demonstrating the transformative value of data and analysis when generated through collaborative processes and a whole-of-society approach, and emphasised the important role JIPS has been playing in this regard. Strong support was expressed specifically by DRC, UNDP, UNHCR as well as Norway, the European Commission and Denmark for collaborative and inclusive data processes, and in particular JIPS' work.
"We highly value JIPS collaborative profiling services and see this as essential to enable nationally owned evidence on internal displacement."
– George Conway, UNDP
"At the global level, JIPS has played a leading role in developing the international framework on IDP statistics, in collaboration with Statistics Norway and other national statistical offices. JIPS has also helped advance IDP data practice. Both in the field and by sharing lessons learned."
– HE Amb. Tine Mørch Smith, Norway
_____
Six Key Takeaways
Systemic changes are needed – and this requires Collaborative Leadership.
Collaborative data processes can support communities' agency and ensure Accountability to Affected People (AAP).
'More and better data' starts with enhanced collective intelligence approaches that strengthen nationally owned solutions and the social contract between governments and their citizens.
Addressing internal displacement is crucial to attaining the SDGs; this requires integrating IDPs into ongoing 'ordinary' development processes.
We cannot stop funding during times of crises. Importantly, increased investment is needed in sustained data use.
Collaborative data processes can support Resident Coordinators in their Collaborative Leadership role.
___
How to cite:
JIPS (2022). "Event Summary Note | JIPS-Norway high-level Event 2022. Delivering on the UN Secretary-General's Action Agenda: Making the Key Shifts a Reality for Data". JIPS, Geneva.