Riham Kowatly participated in the recent Profiling Coordination Training (PCT) where she learned about displacement profiling and what it takes to implement the collaborative process from start to finish.
Riham is not new to profiling; she is actively engaged in the neighbourhood profiling exercises conducted by UN-Habitat in various cities in Lebanon. These profiles contain primary data — combining spatial, quantitative and qualitative data — and aim to offer an integrated area-based analysis covering multiple urban sectors and issues. We asked her how neighbourhood profiles compare to displacement profiling.
The discussion of profiling in cities is especially relevant in advance of the launch of the Global Alliance for Urban Crises publication on this topic at the Humanitarian Networks and Partnerships week in Geneva, on February 8.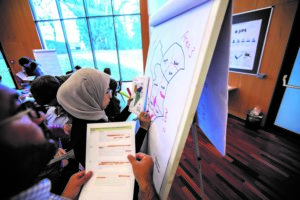 Melissa: I'm here with Riham Kowatly, Socio-Urban Analysis Officer, from the Urban Analysis Unit at UN-Habitat Lebanon.
Riham, you're almost at the end of JIPS' Profiling Coordination Training where you've been working on the profiling process in depth. From your perspective, how does neighbourhood profiling compare to displacement profiling?
Riham: Generally speaking, "profiles" can be defined as a description or presentation of a person, group, community, or organisation. When comparing these two profiling approaches (i.e. neighbourhood and displacement), there are similarities between them when it comes to the process and its collaborative character, starting with field preparation, data collection, data processing and analysis, etc.
For data collection, for example, both approaches would involve mapping and engaging with key stakeholders, including local actors or NGOs.
In neighbourhood profile exercises, for example, we have been involving local authorities, representatives of local NGOs, community mobilisers, focus group discussion participants from the community, volunteers and/or university students, etc. in neighbourhood boundary definition and/or data collection, processing, analysis, and validation. Furthermore, both approaches use a mixed-methods approach, which combines qualitative and quantitative data to triangulate information on, and better understand the context from social, economic and built environment perspectives.
"Ultimately, the goal is to mitigate vulnerabilities."
One main distinction between the two approaches lies in the unit of analysis that each typically looks at: for displacement profiling, it is displaced individuals, households or groups, while for neighbourhood profiles, it is the urban areas or spaces.
While both approaches value and prioritise broad engagement with relevant local stakeholders throughout the process, for neighbourhood profiling, it is critical that local authorities and stakeholders be involved, especially in the validation of the analysis, as this is an opportunity to discuss the results and for the profiles to help inform sectorial and stakeholder short-term project proposals and longer-term sustainable urban development planning. Ultimately, the goal is to mitigate vulnerabilities.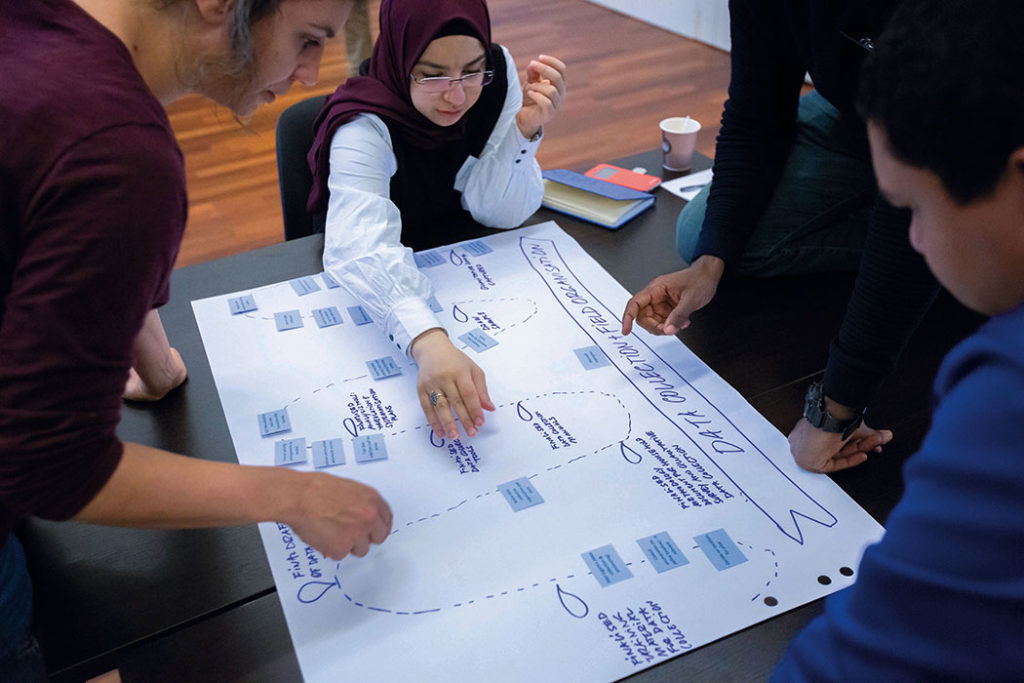 Melissa: I think you are looking at information at a more granular level by focusing on the neighbourhood in a densely populated urban area. But there are interesting parallels. For instance, you regularly involve the local authorities that are critical to the use of the data for urban planning purposes. This is also decisive for displacement profiling as a majority of today's IDPs are in urban areas.
In these contexts, we need to make sure the local authorities are not only aware of the process but are also involved, so they can take a leadership role in the response to the displacement in their cities after an exercise.
In many ways, the two profiling approaches are complementary: through an IDP profiling we might get more in-depth information on different aspects of living conditions (type of housing, degree of overcrowding, etc.) or of the socioeconomic situation of population groups, but we don't get as clear an understanding of a specific neighbourhood or the street conditions where these populations live. Part of the reason for this is that displacement profiling doesn't capture identifying information to avoid increasing IDPs' vulnerability or risk exposure.
However, getting a better understanding of the conditions in which displacement-affected populations live really helps to ground their living conditions and contextualise the challenges or barriers they face to reaching durable solutions in an urban context. The neighbourhood profiles that were conducted in Lebanon provide exactly this type of contextual information.
Riham: Indeed, you can find that both profiles are evidence-based, but one uses a spatial lens, while the other one a population lens. In an area-based analysis, you would look at different social facilities and their services within a geographical area, such as education, health, services for children and youth. You would examine their spatial distribution, accessibility, relevance and affordability, as well as people's awareness of and satisfaction with them.
In addition, you would examine the spatial distribution of businesses (by type) within the local economy and the catchment area. Moreover, you would look at the conditions of buildings and basic urban services at the building and street levels. All this contextual information contributes to understanding host and refugee livelihood challenges and other vulnerabilities as they converge in certain areas.
Melissa: Having both of these approaches can help to achieve a more holistic understanding of a displacement situation in a city and how to deal with it. How do you see durable solutions factoring into neighbourhood profiles? How might the information that you get from neighbourhood profiles be useful for durable solutions?
Riham: The area-based information provided by neighbourhood profiles is synthesised to respond to evidence needs of sector specialists, multisectoral experts, as well as local authorities.
It can help inform short-term interventions to address substandard or critical conditions, such as infrastructure network or social protection issues. It can also support long-term planning, development and policies. Profiles can serve as a framework for coordinated actions between partners of the Lebanon Crisis Response Plan (LCRP), United Nations Strategic Framework (UNSF), and local authorities to improve the response in line with the Sustainable Development Goals (SDGs).
Local authorities' engagement in the profiling process and outcomes are of high importance for securing long-term improvements.
Melissa: What are the kinds of urban planning interventions that your neighbourhood profiles might help inform?
Riham: Neighbourhood profiles have been used for infrastructure projects, for example, road or infrastructure network rehabilitation; building and shelter upgrades or rehabilitation; preservation of cultural heritage sites; creation of livelihood opportunities; municipality capacity building, etc.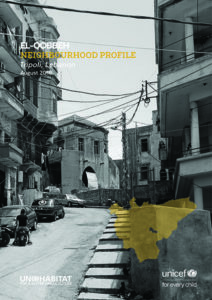 They've also helped inform social projects such as building or rehabilitating community centres as well as organising activities in them related to social cohesion, protection, sexual and gender-based violence (SGBV), youth and women empowerment. Furthermore, we have designed open public spaces in some dense urban neighbourhoods where our profiling has shown relatively high rates of overcrowding, school dropouts, child street play, etc.
The neighbourhood profiles might also help build a national database of comparable data that contribute to creating a baseline and monitoring the development of vulnerable areas.
Melissa: Moving forward, it would be great to work together on how to concretely combine these two approaches so that there is a strong emphasis on the different population groups, including internally displaced, integrated with a better spatial understanding of the urban contexts and various sectors in a city.
In the Global Alliance for Urban Crises, which is a multi-stakeholder initiative at the global level that's been looking at how cities can better respond to crises, we've been talking about the concept of "urban profiling". This is in a way looking to do exactly this: bring together these two approaches so that you have something area-based and population-sensitive but spatially oriented and locally owned.
It would be wonderful to continue exploring together what this concept could actually look like in practice as UN-Habitat in Lebanon continues to roll out more neighbourhood profiles in the future.
—
To find out more about urban profiling, head over to UN Habitat's website.