The Global Partnership on Sustainable Development organised the Data for Development Festival – its first meeting of partners in Bristol, UK, to facilitate discussions and exchange expertise on improving the use of data for progressing the development agenda globally. We welcomed the opportunity to take part and contribute to conversations on humanitarian data challenges, migration and forced displacement, and data privacy.
In this article, we focus on JIPS' key takeaways from the #Data4DevFest.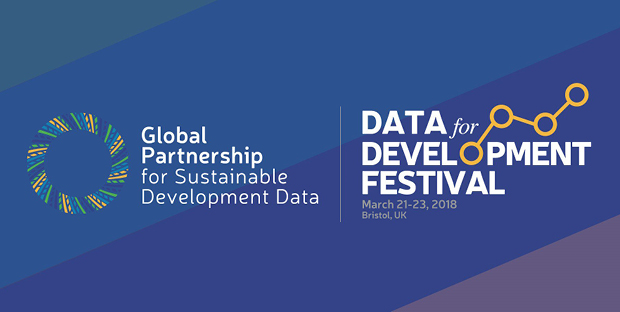 Humanitarian settings: from population data categories to a deeper analysis
Built into the agenda of a largely development-focused data event, OCHA's Humanitarian Data Centre took the lead in a session to highlight the specific challenges of collecting relevant data in humanitarian settings. Against the backdrop of large-scale disasters and volatile conflict or protracted insecurity situations, David Megginson (OCHA) presented on the 'big picture' population data needs for strategic crisis response.
He described the humanitarian profile categories from the general population to the 'population affected', and on to identifying the 'population in need', 'targeted' and 'reached'. This set the ground for Natalia Baal's (JIPS) intervention on the value of profiling for decision-makers to provide a deeper analysis and go beyond the top-level population data categories.
Taking examples from Myanmar, Kosovo and Iraq, Natalia demonstrated the value of disaggregating data by sex/age, diversity and location. Building off further examples from Somalia, where profiling results were used to integrate displacement into national development planning processes, she also argued for the value of collaborating around data processes to build consensus and increase the impact data can have.
Similar topics were picked up by Ewen Macleod (UNHCR), who shared a historical overview of data-use in refugee response and highlighted the potential of new technologies and of the blossoming collaboration with the World Bank to strengthen the value of data for protection and solutions in forced displacement situations.
Great focus on migration data, including refugees and IDPs
A separate session was devoted to data on migration, including international migration, internal displacement and refugee populations. The inclusion of this topic in itself is a significant achievement. However, we see the need for more reflection on data quality, trust, coordination, and transparency from the ground up.
Showcasing the recent achievements of IOM's Global Migration Data and Analysis Centre, Frank Laczko shared key features of their online Migration Data Portal. Christelle Cazabat (IDMC) introduced the complex topic of monitoring data on internal displacement globally, and shared a number of new approaches they are adopting in their work. Bernard Sabiti (Development Initiatives) completed the panel by focusing on data challenges related to the refugee response in Uganda. A number of issues, familiar to JIPS, were highlighted, including the multiple and diverging data sources and the political dynamics around much of the data produced, both of which also represent a challenge for development interventions to make the most of the data.
Questions on the role of governments and available capacity to produce reliable data were also raised and integrated into the discussion. In this regard, the work of the Expert Group on Refugee and IDP Statistics (EGRIS) was also shared as a key initiative.
Think about data privacy from the start!
As an event that embraced innovation and participation, the Festival also included a lively debate on data privacy. Split into two groups, panelists were invited to argue for and against the motion "This festival believes that personal data privacy concerns are obstructing our ability to use data to transform and save lives". Main points from the discussions related to the importance of thinking about data privacy in advance of a data collection exercise. Sharing experiences working in situations of internal displacement and with vulnerable populations, JIPS' Coordinator furthermore underlined the importance of taking the specific context into account to understand particular issues.
Key challenges and opportunities from the public health, education and humanitarian fields were highlighted, each pointing to the value of robust and ethical data sharing agreements as a priority step for enhancing our collective ability to use data in a better and more suitable way to transform and save lives.